HOME / PROGRAMME 2016 / EXHIBITIONS / WORKSHOPS / FILMS / ARCHIVE / INFORMATION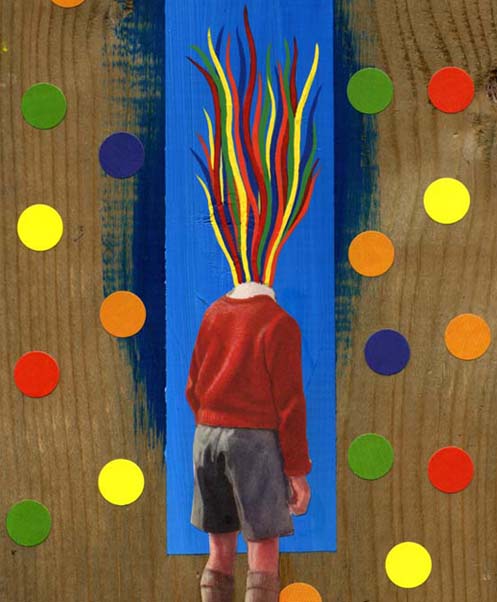 Colour Out of Space 7 International Festival of
Experimental Sound and Art
Welcome to the archive of Colour Out of Space 7. Thankyou to everyone who made COOS 7 one of our favourite editions yet! Over the weekend Brian Turner, music director of New Jersey's WFMU, and sound artist Ilia Rogatchevsk of Resonance FM were at venues throughout the city recording performances, panels and interviews. Take a listen below, more to follow.
Ilia Rogatchevsk's hour long intro to COOS 7 includes Myriam Van Imschoot & Doreen Kutzke, Matt Krefting, Claire Potter, Birgit Ulher, Stephen Cornford, Kent Tankred, Johannes Bergmark, Steve Beresford, Tania Chen & Stewart Lee. Tune in here.
Derek Walmsley, editor of Wire, hosted a panel at Brighton's Hope and Ruin on contemporary broadcasting and the legacy of freeform radio - 'the Golden era of radio today!'. Joining Derek were Brian Turner and Fabio Roberti of WFMU, independent curator and broadcaster Bronac Ferran who hosts the programme Making Conversations on Resonance FM, Luke Younger aka Helm who DJs monthly on online station NTS, and Daniel De Wereldvermaarde Botanicus (AKA Cassis Cornuta) of Antwerp's Radio Centraal. Hear it here
Come On, Come Down! #11 – Resonance FM
London-based sound artist Ilia Rogatchevski presents a six-hour 'atmospheric re-imagining' of the weekend - loosely divided into two hour sections representing each day. Here! Superb!
WFMU - The Brian Turner Show at COOS
Turner's WFMU COOS special features 'gorgeous soundshaping from New Englander Matt Krefting, Australian sound/visual artist Matthew P. Hopkins, a claustrophobic collaboration between Schimpfluch-Gruppe veteran and Tochnit-Aleph label founder Daniel Lowenbruck with Brazilian-born visual artist Marcellvs L, plus a final head scratching set from the Clappy Shandy Dads (featuring Dylan Nyoukis with members of Hyperion Ensemble, Vibracathedral Orchestra, and Chastity Potato)'.
A big thanks also to Brian for helping to set the ambience each night with a DJ set and for live stills on this page (featuring clockwise from top left - Angharad Davies & Lina Lapelyte, WOL, Johannes Bergmark, Iancu Dumitrescu & Ana-Maria Avram). WFMU's COOS outing is here.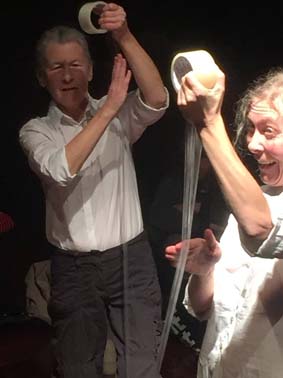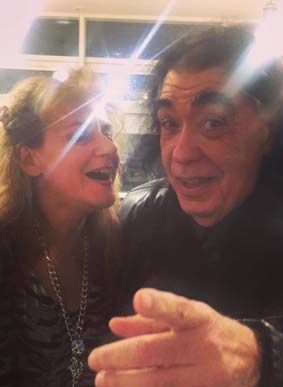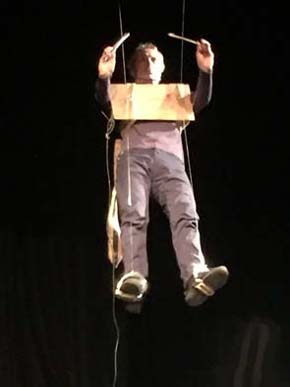 For 2016's performance weekend alongside an international programme of artists, exhibitions, talks and panels, we welcomed Stockholm's fantastic, long running experimental 'artist society' Fylkingen to host Saturday night. Some insights from the weekend can be found here and here, and there's an intrepid audio diary recorded each night by Matt Dalby, revolving footage from the Radiophonic Laboratory of Antimatter and documentation of Stephen Cornford's magnificent, kinetic sculpture Constant Linear Velocity. COOS T-shirts, merchandise and releases from festival artists - and many more - are available from Chocolate Monk, where you'll also find further artwork from Karen Constance. Meanwhile Open Colour's experimental film series runs throughout the year. We're aiming to get COOS 8 to you...soon!
---
Performance Weekend Timetable: 18th - 20th November 2016 - Full Details Here
---
Sallis Benney Theatre, 6pm – 12 Midnight (Doors 5.30pm)
Matt Krefting (USA), Cassis Cornuta (BE), Clappy Shandy Dads (UK), Guy Rombouts (BE), Angharad Davies & Lina Lapelyte (UK), Mathhew P Hopkins (AUS), W.Mark Sutherland (CAN), Esther Strauss (AUT)
+ This Darkness is Not Exclusive. This Darkness is as much Yours as it is Mine - Esther Strauss (AUT) - Daytime (Free)
---
Sallis Benney Theatre, 6pm – 12 Midnight (Doors 5.30pm)
Fylkingen presents: Anne Pajunen (SWE), Wol (SWE), KOEFF (SWE), Kent Tankred (SWE), Marja-leena Sillanpaa (SWE), Johannes Bergmark (SWE), Daniel Rozenhall & Sten Backman (SWE), Mikael Prey (SWE), Leif Elggren (SWE)
One Church, 2.30pm - 5.30pm
Fylkingen panel with Fabio (WFMU)
Michael Barthel (DE), Claire Potter (UK), Langley & Murphy (UK)
Oxfam, Western Rd, 12 Midday (Free)
Plastic Containers of Nothing (UK)
---
Sallis Benney Theatre, 6pm – 12 Midnight (Doors 5.30pm)
Iancu Dumitrescu, Ana-Maria Avram and Hyperion Ensemble's members
Yoni Silver, Alex Drool Yonovic, Cosmin Postolache. (ROU/ISR), Steve Beresford & Tania Chen & Stewart Lee (UK), Olympic Shit Man (FR/UK), Birgit Ulher (DE), Phantom Chips (AUS), Daniel Löwenbrück & Marcellvs L. (DE/BR), Daniel WJ Mackenzie (UK)
One Church, 2.30pm – 5.30pm
Myriam Van Imschoot & Doreen Kutzke (BE/DE), Aine O'Dwyer (IE),
TALK(4pm) Iancu Dumitrescu and Ana-Maria Avram with Andy Wilson
Hope and Ruin, 12 Midday (Free)
Derek Walmsley and Wire present Freeform Radio: Past and Present
Tarner Tower, 10.30am (Free)
Duncan Harrison: Revisiting Tarner Tape Centre
---
Extended Programme running throughout Brighton from 7th November - 12th December: Stephen Cornford's Constant Linear Velocity + COOS Small Press Exhibition + Workshops + Films + COOS at Cafe OTO
---

---
HOME / PROGRAMME 2016 / EXHIBITIONS / WORKSHOPS / FILMS / ARCHIVE / INFORMATION