HOME / TIMETABLE / WORKSHOPS / EXHIBITIONS / LUBBERLAND / MERCH / INFORMATION / ARCHIVE
Colour Out of Space (8)
International Festival of
Experimental Sound and Art
Archive: Brighton 26th - 28th April 2019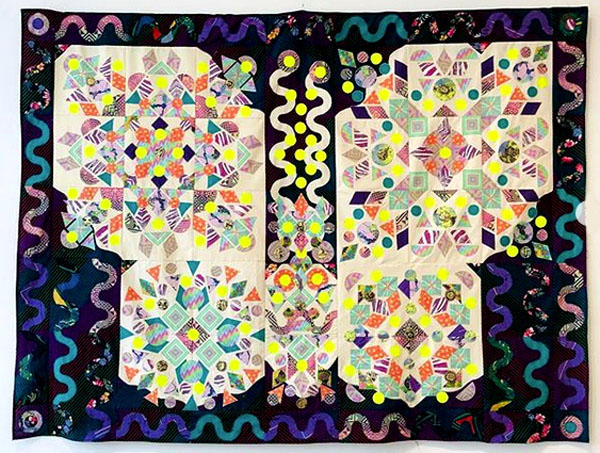 Thankyou to all the artists, audiences and volunteers who made COOS 2019 one of our all time favourite years yet!
This month we'll begin streaming a set from the latest festival each week, before opening up an online archive of COOS performances over the years. If you have recordings, photos, drawings or anything you'd like to share - don't hesitate to get in touch.
COOS (8) featured three days and nights of performances, workshops, exhibitions, improvisation and sonic innovation that touched on everything from AF Ursin's deep space, minimalism to the DIY avant-pop anthems of Robert Ridley Shackleton. Insights from Lucid Frenzy Junior's blogspot can be found here, while Matt Dalby's epic audio diary, teetering on delirium by night three, is here. The big scroll down menu of all times, artists and artists' links is also just a click away
COOS is now a biennial event - we'll be back in 2021.
---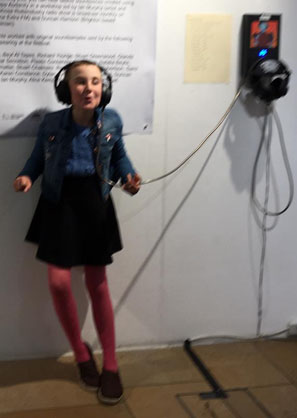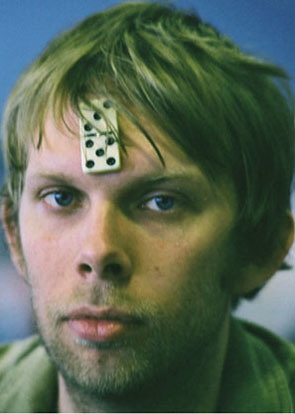 WHAT WAS MUSIC + JAN ANDERZÉN
Two exhibitions ran throughout COOS (8); Brighton's Jubilee Library hosted WHAT WAS MUSIC an audio installation featuring twelve sound-collages created by local schoolchildren in a workshop led by Ian Murphy and Duncan Harrison. Find out more and stream all twelve here - they're great! Over in ONCA Gallery, we were honoured to present UNIA LOIMUSSA (Dreams inside a Blaze) - the first ever UK exhibition from visual artist, musician and Finnish underground lynchpin Jan Anderzen. His PIENTA HILPEAA RAHINAA (UTUN VARIT) - Tiny Joyous Rattle (The Colours of Haze) is pictured top of page.
---
LIVE FROM LUBBERLAND
Ash Reid & Ali Robertson were in residency at the Phoenix Brighton over the weekend with 'In The Future You'll Be Able To Get All The Expensive Designer Wallpaper That Your Heart Desires For Free: Live from Lubberland' - a radio series for and from the future. Working with audience members and COOS artists, it was recorded and edited daily, and broadcast nightly by Resonance Extra. You can visit all three Lubberland excursions here.
---
COOS ARTS TRAIL
The weekend saw the first COOS daytime sonic-arts trail, which featured installations and site specific performances in Brighton landmarks including The Pepperpot with Ian Helliwell, little known Follys such as The Tarner Tower with Alice Kemp, and London Rd's bustling Open Market with Ryoko Akama. Sights and sounds from the streets, alongside Resonace FM's Free University and Gonk Summit, will be online soon.
---
MERCHANDISE
Currently sold out - more details coming soon.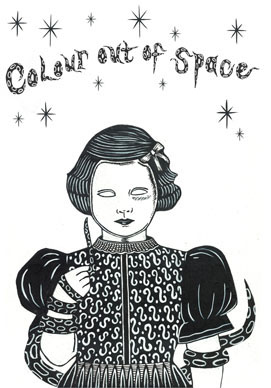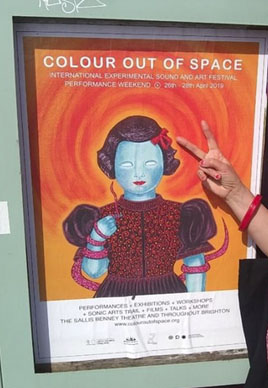 ---
COLOUR OUT OF SPACE 2019 - RESONANCE FM PREVIEW
Listen in as Dylan Nyoukis - artist, Chocolate Monk label boss and chief talent scout of COOS presented a pre-fest sonic taster.
Glands Of External Secretion (USA) + Red Brut (NL) + Robert Ridley-Shackleton (UK) + Wild Rani (UK) + Charles Mitchener Duo (UK) + Ezio Piermattei (IT) + Ash Reid (UK) + Plastic Hooligans (UK) + Duncan Harrison (UK) + Ryoko Akama (JP) + Alice Kemp (UK) + Ian Helliwell (UK) + Julian Weaver (UK) + Plastic Containers Of Nothing (UK) + Bill Nace & Twig Harper (USA) + White Death (UK) + Pat Thomas (UK) & Adam Bohman (UK) & Sami Pekkola (FI) & Yoni Silver (IL) + The Elks (DK) + Beyt Al Tapes (BE) + AF Ursin (BE) + Ernie K Fegg (UK) + Tom White & Stuart Chalmers (UK) + Hiru Marsvin (UK) + Dai Coelacanth (UK) + Harappian Night Recordings (UK) + Joincey (UK) + Chie Mukai (JP) & Richard Youngs (UK) + Alvarius B (USA) + Papal Bull (UK) + Stewart Greenwood (UK) + Anne Gillis (FR) + Graham Lambkin (UK) & Áine O'Dwyer (IE) + Jérôme Noetinger (FR) + The Dan, Rakel and Klara Fröberg Experience (SW) + Olivier Brisson (FR) + Natalia Beylis (IE) + Tomutonttu (FI) + Lovely Honkey (UK) + Ed Baxter (UK) + Cathy Soreny (UK) + The Burbling Mind (UK)
---
Join us on Facebook and Twitter
Blue Girl Image - Karen Constance
Thankyou to our funders and supporters for making COOS (8) possible:
---
HOME / TIMETABLE / WORKSHOPS / EXHIBITIONS / LUBBERLAND / MERCH / INFORMATION / ARCHIVE