An exhibition of beautifully handcrafted fanzines, independent press publications, new writing, sound poetry scores and more from COOS artists past and present. Come down, browse through and enjoy work from the Fykingen archive, Leif Elggren, Henri Chopin, John Inzane Olsen, Hannah Ellul & Ben Knight's Psykick Dancehall, Alessandro Bosetti, W Mark Sutherland, Dylan Nyoukis & Karen Constance, Clare Potter, Giant Tank and Malcy Duff, Ian Helliwell, Dennis Tyfus and Ultra Eczema, Lasse Marhaug, Bananafish and more
12th November – 11th December 2016
at Phoenix Brighton, Waterloo Place
Open Wednesday – Sunday 11 am – 5 pm
Sculptural sound works by Stephen Cornford
Curated by Snoozie Hexagon
Presented as a partnership between Colour Out of Space and Phoenix Brighton
Opening Night: 11th November at 6pm - 8pm
With the widespread digitisation of culture, we have inadvertently ushered in the end of the 150 year-long coupling of audio storage with mechanical technologies. With the compact disc superseded by flash memory it looks guaranteed to be the last major physical medium. This exhibition seeks to engage directly with this historical moment by asking what the future holds for our discarded electromechanical devices and whether we might not still learn something from these empty machines. The works in this exhibition recast the role of the machine, not as a functional apparatus but as expressive, reflective and aesthetic devices. Seen collectively they propose an alternative to the dispose and upgrade mentality so pervasive today, allowing the machines to reflect back to us elements of the culture which produced them.
Stephen Cornford (1979, London) is an artist working between media art installation and audiovisual performance. His work reconfigures consumer electronics into expressive or reflexive devices. He has recently had solo exhibitions in Tokyo, Berlin and Bergen and his work has been included in group exhibitions at the ZKM, Karlsruhe; ICC, Tokyo; H-eK, Basel and Signum Foundation, Venice. He is also co-curator of the Audiograft Festival and Consumer Waste record label.
+ In the North Gallery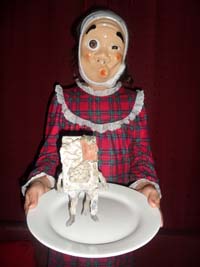 Chocolate Monk Presents
Like A Truffle Encased In Garbage
A small collection of micro edition releases from the experimental music underground.
- Phoenix Brighton Homepage
- Stephen Cornford Homepage
---
CONSTANT LINEAR VELOCITY:
ASSOCIATED ACTIVITIES
---
Saturday 12th of November
2.00pm - 3.00pm
Stephen Cornford - Artist Talk
Join us in the Phoenix's main gallery where Stephen Cornfield will be in conversation with musician and sound artist Duncan Harrison.
- Free - No booking required
Saturday 26th of November
11.00am -1.00pm
Improvisation: Voice and Found Objects with Breathing Space
An improvisation workshop sharing our working practice of exploring a site in preparation for performance using a variety of techniques. Discover techniques for improvising and experimenting with sound using your voice and found objects, using sound to explore space and create instant work with others. The session is open to all regardless of musical experience.
Saturday 10th of December
11.00am -1.00pm
Radiophonic Laboratory of Antimatter with Graham Dunning
Purchase tickets
Building lo-fi noisemaking machines towards an abstract, automated sound composition. The workshop is based on the Music By The Metre project: Exploring the ideas behind situationist Giuseppe Pinot-Gallizio's Industrial Painting, using analogous processes in sound. Participants will have the opportunity to use record players, motors, tape loops, ping-pong balls, synths, pedals and other bits and bobs to make an automated collage of rhythm and drone. The collaborative composition made by the group will be shared with participants digitally after the workshop.
---
HOME / PROGRAMME 2016 / EXHIBITIONS / WORKSHOPS / FILMS / ARCHIVE / INFORMATION