Áine O'Dwyer and Graham Lambkin are multi-disciplinary artists whose work explores the nexus between music, text, illustration, theater, and the dissolution of the audience/performer divide.
O'Dwyer and Lambkin came together in New York, December 2016 for a collaborative performance in association with Blank Forms. The pair have continued to collaborate on multiple projects, in various locations. 2018 marked their first collaborative album, Green Ways, which gives voice to their documentary-styled performances for the listener.
Both individually and in collaboration they have explored the latent potential of acoustical space, transforming both fantastical and mundane environments into aesthetic centrums of possibility.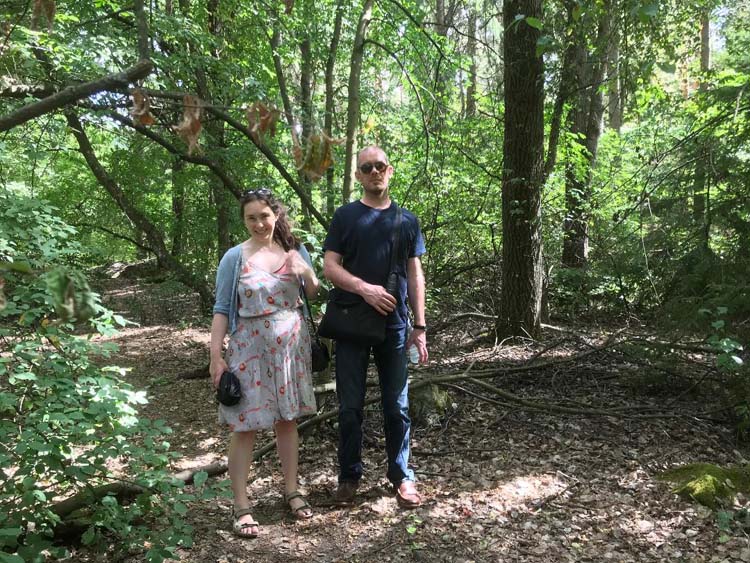 Graham Lambkin is a multidisciplinary artist based in Upstate New York, who first came to prominence in the early 90's through the formation of his music group The Shadow Ring. Combining a D.I.Y. post-punk ethic with folk music, cracked electronics, and surreal wordplay, The Shadow Ring created a unique hybrid sound that set them apart from their peers and continues to show as an influence today.
Following the dissolution of The Shadow Ring Lambkin embarked on a series of striking and highly original solo releases, including Salmon Run (2007) and Amateur Doubles (2012), a critically acclaimed trilogy with experimental tape musician Jason Lescalleet: The Breadwinner (2007), Air Supply (2010) and Photographs (2013), and Making A (2013) a collaboration with renowned table-top guitarist and founding member of the AMM group, Keith Rowe. His latest release, Schwarze Riesenfalter sees Lambkin paired with Wandelweiser composer Michael Pisaro in a musical reimagining for the texts of Georg Trakl.
Lambkin also curated the Kye label, which, since it's conception in 2001 published audio work by contemporary artists such as Vanessa Rossetto, Malcolm Goldstein, and Joe McPhee, as well as archival collections from the likes of Henning Christiansen, Moniek Darge and Anton Heyboer.
Lambkin's reputation as a visual artist came into focus during the 1990's, designing record sleeves, t-shirts, posters/flyers for a slew of underground labels and bands including The Dead C, Harry Pussy, and Double Leopards. His playful combination of figurative and abstract elements lend Lambkin's work a jarring, dreamlike quality, placing childlike totems against a darker adult undercurrent. Five books of Lambkin's art/text have been published to date: Unfocused Hands (2004), Dumb Answer To Miracles (2009), Dripping Junk (2010) Millows (2012), and most recently Came To Call Mine (2014) a sumptuous collection of illutration and prose for children. To date Lambkin has had his artwork exhibited in three solo shows: Came To Mine at Audio Visual Arts, NYC (2014), Marble On The Rot, at 356 Mission Gallery, Los Angeles (2015), and most recently Moon blows close at Kunstlerhaus Stuttgart, Germany.
Áine O'Dwyer, (born Co.Limerick, Ireland) lives and works between Ireland and the UK. She graduated from the Limerick School of Art and Design in 2006 and the Slade School of Art in 2011. She creates live and recorded events which embrace the broader aesthetics of sound and its relationship to environment, time, audience and structure. The notion of a holding space as-extension-of-instrument is a cornerstone of her artistic investigation and the crux of her live performances. Her most recent live works include Civil Twilight (Rhubaba Gallery, Edinburgh 2017), Down at Beasty Rock (CCA, Glasgow 2017), Poems for Daedalus (Daedalus street, Athens 2018) and Pianowalk (Novas Frequências, Rio de Janeiro 2018). Notable releases include Music for Church Cleaners, Beast diaries, Locusts, Gegeinschein, Gallarais and Poems for play which was released on her publishing imprint Cloch.
https://aineodwyer.bandcamp.com/
Text - Thanks to Cafe Oto
---
HOME / ARCHIVE / INFORMATION