HOME / PROGRAMME 2016 / EXHIBITIONS / WORKSHOPS / FILMS / ARCHIVE / INFORMATION

---
Performance Programme
18th-20th November 2016
---
FRIDAY 18TH NOVEMBER, SALLIS BENNEY THEATRE, 6PM - MIDNIGHT
Matt Krefting. - 11:30pm - 12:00am
Cassia Cornuta. - 10:40pm - 11:10pm
Clappy Shandy Dads. - 9:50pm - 10:20pm
Guy Rombouts. - 9:00pm - 9:30pm
A.Davies & L. Lapelyte. - 8:10pm - 8:40pm
M.P. Hopkins. - 7:20pm - 7:50pm
W Mark Sutherland. - 6:30pm -7:00pm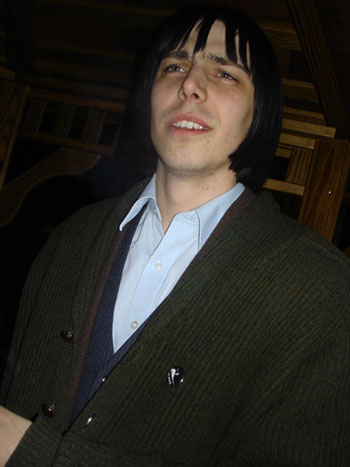 Matt Krefting
Krefting is a composer, performer, poet and writer based in Easthampton, Massachusetts. Krefting's deep-rooted chronology is seeded in the foundation of Apostasy Recordings and its numerous transitory groups. Over the past decade he's played a pivotal role in some of the Northeastern's most unwaveringly left-field groups - including art/action minimalists Son of Earth and avant-glam trio The Believers - released a beautifully ramshackle album of classic rock covers on Thurston Moore's Ecstatic Peace, and gained an exultant reputation for his ongoing solo, tape based experiments with sound collage, guitar and voice. 'Lymph Est' is his gorgeous yet unsettling first album on Kye Records in which 'treated voices, piano, samples and T.V. grabs are ushered into a series of soft-focus miniatures that are built to be razed in a perpetual cycle of triumph and defeat.' Kreftings writing has been published by Glass Eye Books and Kendra Steiner Editions and The Wire.
- Writings on Music
- Krefting at FFFoxy
Cassis Cornuta
Cornuta began experimenting in the early 1970's with anti-music, noise, art-prank statements, tape loops, field recordings, cutups, broken turntables, Korg synths, pianos, microphone feedback, primitively executed sound poetry and industrial debris, spiced with an encyclopedic knowledge of soundart and dozens of plants (cacti to be specific). Cornuta's recent release 'Mag Ik Eens Even In Uw Broek Pissencan' can be played in multiple ways depending on how many extra holes he has hand drilled into each individual vinyl. It's great to have him here for a rare UK appeareance. 'Cornuta's story makes for a fascinating secret history that sheds further light on the culturally decimating power of avant garde theory in the hands of punk primitive kids - a dramatic cultural engagement played out across countless long-lost cassettes and private performances'' Forced Exposure. 'Loner synth sound that makes your hangovers or LSD trips worth going for - the only solo act we would get on our knees begging for more aural syrup' Dennis Tyfus / Ultra Eczema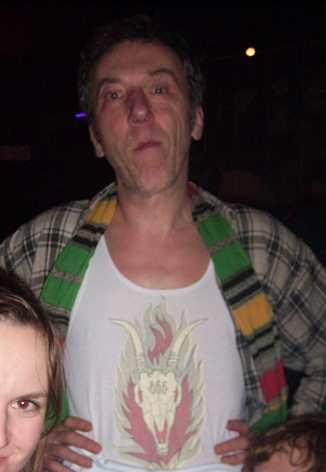 Guy Rombouts
Rombouts comes from a family of printers and originally trained to be a typographer. Fairly soon, however, he turned to art, and his work continues to show a fascination for language, writing and sign systems. According to Rombouts, as the conventional symbols of the written word are purely arbitrary they are inadequate for expressing certain ideas and feelings. In 1984 his artistic quest resulted in the invention of AZART, his own alphabet which he and partner Monica Droste (1958-1998) used in the creation of rebus-like installations across many media. These include print, sound, painting and performance - AZART's playful and colourful pictorial language. offering a sensual, tactile aspect missing from Western script.
We don't know what Rombouts has planned for his performance at COOS, we do know it will be fantastic.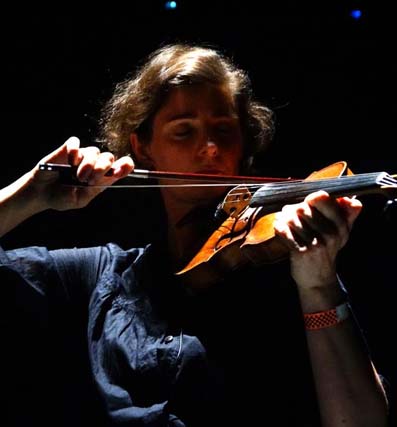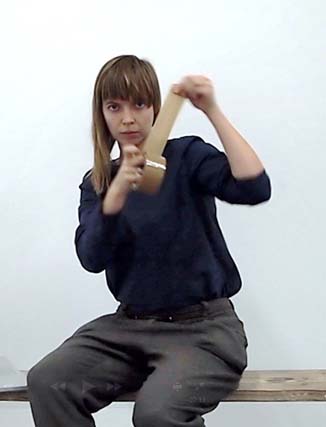 Angharad Davies & Lina Lapelyte
Angharad Davies is a leading violinist working across a wide range of ensembles, groups and disciplines. She's a specialist in the art of 'preparing' her violin - adding objects or materials in order to extend its sound making properties. Her sensitivity to the possibilities of musical situations, and attentiveness to their shape and direction make her one of contemporary music's most fascinating figures. Recently, she has been commissioned for a new work for 'solo violin and four bass amps' at the Counterflows Festival, Glasgow and has premiered Eliane Radigue's new solo for violin 'Occam XXII' in Mexico. 'Davies exemplifies the very productive conversation that has taken place over the past 15 years between improvisers and composers in search of a simplified, reduced and more reflexive language for music making.' David Toop
Lina Lapelyte is an artist, composer, musician and performer. She says of her practice, 'It can be placed 'in-between'; in-between classical and experimental, music and fine art, composing and improvising.' Initially trained as a classical violinist in Lithuania her experiences within London's improvised music scene - where she played with David Toop, John Butcher and Anton Lukoszevieze and many others - radically changed her approach to composition. Lapelyte has completed several sound installations – site specific works which often evoke a sense of place through their own live input: people, their voices; nature and its energy. Her recent works Ladies (2015), Hunky Bluff (2014) and Candy Shop (2013/2015) have been shown in different contexts and locations including the Serpentine Pavilion in London, the Queen Elizabeth Hall in London and the Venice Architecture Biennial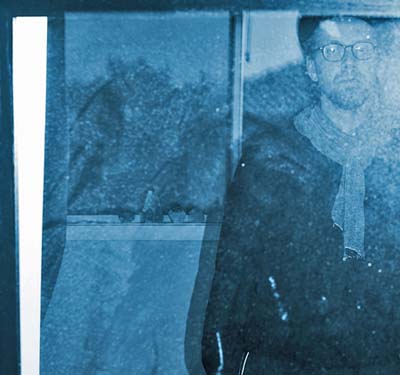 Matthew P. Hopkins
Hopkins is a sound maker based in Melbourne, Australia. He's distinguished himself as a master of multiple musical forms through collaborations that touch on improvised electronics, structured song, minimal synth and raw techno. Under his own name he produces a highly singular take on abstracted voice, feedback, field recordings and found sounds. With the release this year of 'Blue-Lit Half Breath' Hopkins has harnessed his deeply personal and paranoid vision into the ultimate beauty/horror object. He has released recordings through Penultimate Press (UK), Vittelli Records (UK), Alberts Basement (AU), Canti Magnetici (IT) and Thalamos (GR).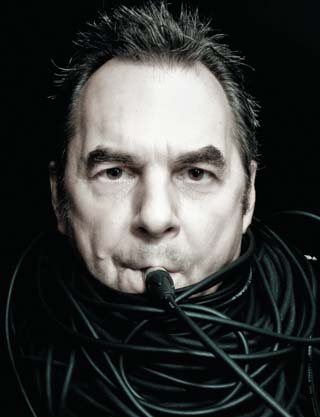 W. Mark Sutherland
Sutherland is a Canadian intermedia artist. His aesthetic practice is a hybrid that pivots on the creation of work blurring the borders between poetry, visual art, music and performance art. His texts, objects, videos and installations often investigate the conflicting principles of authority in language, images and sound and have featured in galleries, performances, festivals and solo shows throughout the world. He is a member of SOCAN (The Society of Composers, Authors, and Music Publishers of Canada) and the League of Canadian Poets.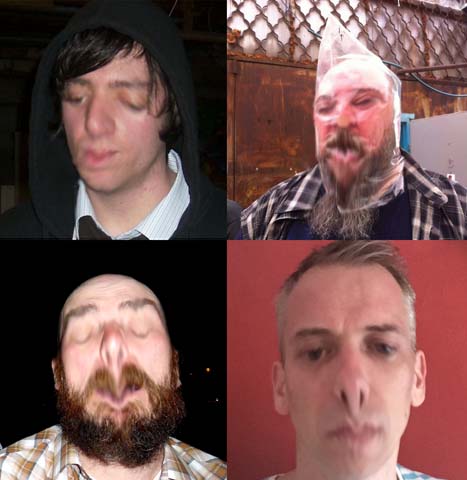 Clappy Shandy Dads
A one off collaboration by Julian Bradley (Vibra Cathedral Orchestra), Alex Drool (Hyperion Ensemble), Dylan Nyoukis (Blood Stereo) and Luke Poot (Chastity Potato). Expect a mixture of electronics, tapes, voice, prepared snare drum and general head scratch.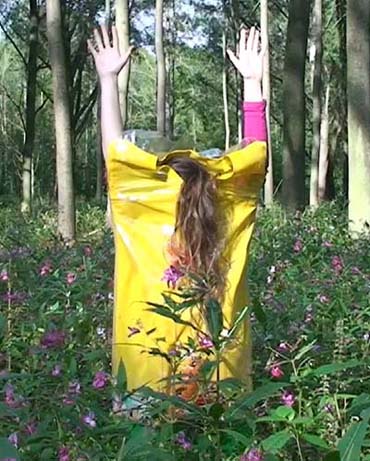 Esther Strauß
This darkness is not exclusive. This darkness is as much yours as it is mine.
Strauß grew up in the original dada outpost of Tarrenz, in the Tirol. Strauß paints, writes, performs, is a curator and always on the trail of frivolously brilliant experiments. She combines text and performance, occasionally employs the forest as a studio, uses galleries as a space for exploration and tells tales with an ambition to brave the gaps in the process. From 2005 to 2011 Strauß studied painting with Ursula Hübner at the University of Fine Arts, Linz. Numerous exhibitions, readings and prizes have followed, most recently RLB Kunstpreis 2014, Hilde Zach scholarship 2016 and a performance in the Sigmund Freud Museum, London. She lives and works between Vienna, London, Dehli, the Tirol, and anywhere she can take a nice walk. For COOS, Strauß will embark on a daylong performance - a random drift, with a difference, through the streets of Brighton.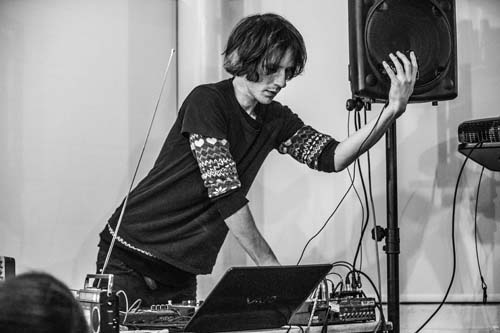 Daniel W J Mackenzie
Mackenzie is an audio and visual artist working in a variety of disciplines, best known as a musician under the alias Ekca Liena and as a member of improvised drone / noise band Plurals. Under his own name. Mackenzie works with modern and conceptual composition, as well as sound and sculptural work. He has appeared internationally, most recently in Berlin, Cape Town and the UK, working with sonic sculpture, multichannel tone-work and soporific sound collage, refining his approach towards noise, quietude and lightness. Mackenzie is as a founding member of the arts collective Lost Property, and writes music reviews and features for publications including Fluid Radio, Bad Acid, The London Economic and Willow Wood. For COOS he is creating a new soundwork for the venue's gallery spaces.
---
SATURDAY 19TH NOVEMBER, SALLIS BENNEY THEATRE, 6PM - MIDNIGHT
Johannes Bergmark -11:30pm - 12:00am
Kent Tankred. -10:40pm - 11:10pm
Marja-leena Sillanpää. - 9:50pm - 10:20pm
Wol. - 9:00pm - 9:30pm
KOEFF - 8:10pm - 8:40pm
D. Rozenhall & S. Backman. - 7:20pm - 7:50pm
Anne Pajunen. - 6:30pm -7:00pm
We're excited to welcome Leif Elggren, Wenche Tankred and Lovisa Johansson of Sweden's Fylkingen to curate a special programme of performance, presentations and more! Established in the 1930s, Fylkingen is a hugely influential venue and artists' society for new and experimental work in music, performance, video, film, dance, sound-text composition and intermedia.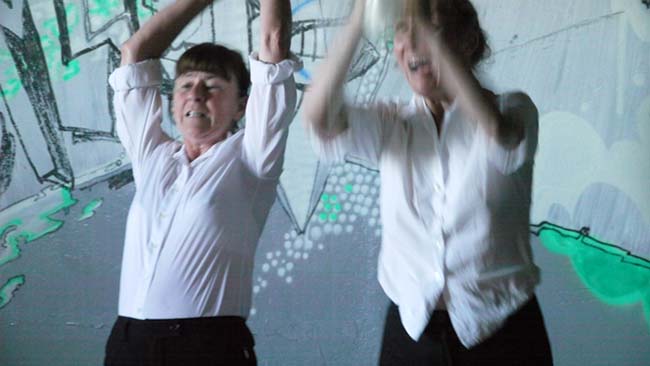 WOL
Wenche Tankred and Lovisa Johansson are WOL – a visual, playful performance duo and continuous artistic process that sprang into life in 2007. WOL's works explore human absurdity, sensibility and beauty - their ideas emerging through their interaction with different objects, concepts, landscapes and situations.
'WOL wants to turn the world on its head, using the humour of the low as tools to change our preconceptions and challenge hierarchy. WOL takes a stand for the imperfect and childish within each and everyone of us.' Live Arts Jounal
- Homepage
- Performance at Fylkingen
Anne Pajunen
Composer, singer, performance artist, viola player and director, Pajunen has created her own unique style of stage concepts that have been described as 'new opera grounded in post dramatic expression'. Working across many disciplines, she has created theatre pieces, performance art, videos, installations, exhibitions and interactive works, often embracing elements of chance and improvisation that allow for close interaction with the audience. As the artistic leader and founder of ensemble House of S.M.O.K (Swedish Modern Opera ensemble), she has produced and performed over 20 productions.
Performances include festivals such as Stockholm New Music, ISCM, Berkeley Arts Festival, Sonic Circuits (Washington DC), Synthèses in Bourges, Nordic Music Days. Stage works, operas and other solo works have been commissioned by Norrlandsoperan, Folkoperan, the Swedish Radio amongst other musicians and ensembles.
-Homepage

Marja-leena Sillanpää
Sillanpää works in direct response to specific environments using different materials and electronic objects to build intricately assembled situations, both pointing to the contact with a possible past and a potential future. In other words; there are other ones with us in existing rooms.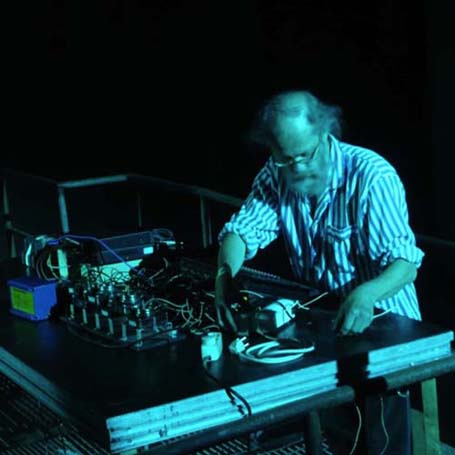 Kent Tankred
Born in 1947, Tankred is a prominent name in sound art. Tankred studied painting in the early 70s before enrolling at EMS (Institute for Electro-Acoustic Music) in Stockholm with Rolf Enström and Jan W Morthenson. Tankred's main focus is in the sonic interaction with other art forms, particularly pictorial art - his circuit bent instruments represented in the form of collages, sound installations and recordings.
Through his work Tankred aims to strengthen the ties between music, movement and image and specifically avoid conventional forms of expression. Alongside Leif Elggren he formed 'Sons of God' (Guds Söner) in 1988, the duo moving freely between music, stage and the visual arts, their transformative, durational performances giving equal emphasis to physical action (or inaction) and soundtrack (live or taped) with themes that have included violence, love, the quotidian, food and royalty.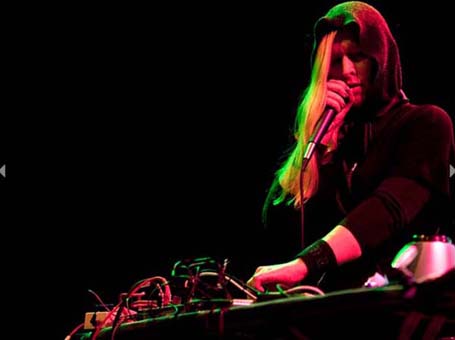 KOEFF
'KOEFF is Johanna Rosenqvist, currently living and working in Malmö, Sweden. There she is making agreat deal of noise by vacuum cleaning, food mixing or sometimes standing screaming by her old KORG synthesisers – always seriously amplified and heavily leaden with delay and distortion provided by her handy colourful guitar effect boxes. KOEFF came to light as a solo project while Johanna was also involved with the hard core disco industrial, power electronics duo INSTITUT (now a solo project by Lirim Cajani). Music wise she is proud to be an autodidact, educated only on the city streets of Malmö or in the crowded smalltown communal music studios of Mjölby and Norrköping' Last FM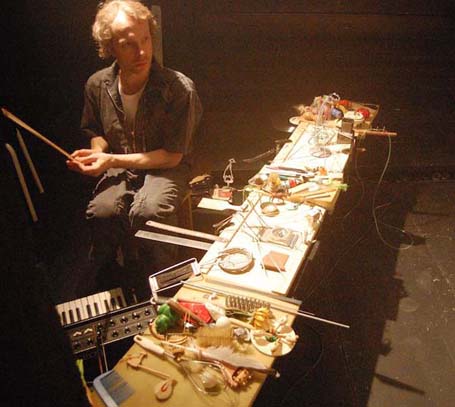 Johannes Bergmark
Bergmark is a Stockholm-based sound artist, improviser and piano technician working with electroacoustic sound creations, experimental self-made instruments, sound sculptures and installations.
His performances have been described as surrealist puppet theatre, in which the characters are amplified objects such as old tools, kitchen utensils, clocks, springs and decorative kitsch. Using contact microphones, Bergmark reveals their hidden acoustics, dynamic scales and unique timbres. Alongside performances, Bergmark lectures on electroacoustic music and organises workshops to construct experimental musical instruments. For COOS Bergmark plans to perform The Stringed Stirrups - '...literally walking on a vertical tightrope. I am playing two piano strings that are suspended from the ceiling, with me hanging in the lower end.' Bergmark
Daniel Rozenhall / Sten Backman
A collaboration between sound artist Daniel Rozenhall and visual artist and graphic designer Sten Backman. Rozenhall has released a much sought after series of intense, dark, beautiful noise recordings on labels like Firework Edition Records and Kning Disk. He has been a producer for Fylkingen Records for several years. Sten Backman is a painter, video artist and graphic designer, specializing in music packaging, branding, motion, book covers, editorial illustration and advertising. For COOS he has created video works for Rozenhall´s pieces Forecusst and Eyeland.
Leif Elggren
Active since the late 1970s, Elggren is a writer, visual artist, art book publisher, stage performer, and composer based in Stockholm. His varied and prolific output routinely involves dreams, subtle absurdities, and social hierarchies turned upside-down. His audio works are often created as the soundtrack to installations or specific performance. He is one half of the duo Sons of God with Kent Tankred, and the benevolent co-monarch with Carl Michael von Hausswolff, of the Kingdoms of Elgaland-Vargaland. Elggren is planning a garden performance
Mikael Prey Short films selected by the Stockholm based artist and filmmaker will run in the gallery.
---
SATURDAY 19th NOVEMBER - DAYTIME

One Church, Saturday, 2.30pm - 5.30pm
Fylkingen Panel With Fabio + Michael Barthell + Claire Potter + Langley & Murphy

Fylkingen Panel With Fabio (2.30pm - 3.30)
Join Leif Elggren, Kent Tankred, Wenche Tankred and Lovisa Johansson and other artists from Fylkingen to discuss their work and the history of the long running experimental arts society.
It's all moderated by Fabio from NY's premiere freeform radio -WFMU.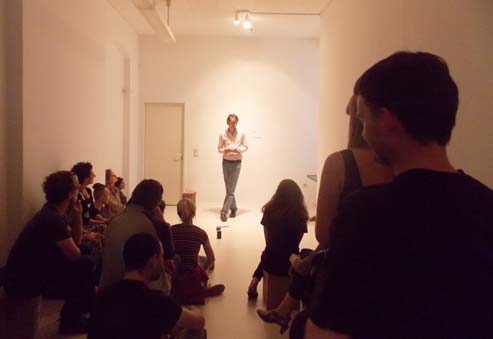 Michael Barthel
Barthel was born in Berlin in 1977 and has been working in the fields of musique concrete, noise compositions, concrete phonetic poetry and fine arts since the mid 1990s, first with his project The Nautilus Deconstruction, and since the early 2000s under his own name. Through performance and self-published micro-edition and CD-R releases, Barthel's artistic practice has moved from an early interest in noise collage towards more conceptual musique concrete compositions. Using mostly just his own voice and tape-machines, Barthel creates poetic and mysterious environments that by means of their simplicity, fragility and lo-fi aesthetics captivate on a charged emotional level. Barthel lives and works in Leipzig where he curates his own gallery Kunstraum Barthel
Claire Potter
Potter is an artist writer from Merseyside. Through published text, live performance and audio works her work addresses and explores modes of reading, speaking, narrative and cadence. She's the author of the experimental fiction Mental Furniture, extracts from which she used in the sound project Mother To No Swimming Laughing Child with musician Bridget Hayden. Forthcoming works include performance films Cast Metal Nut and Lads of Aran, and, in print, Bodies that Remain (Punctum Books).
Potter organises Shady Dealings With Language, an interdisciplinary, UK wide event series for writing and performance.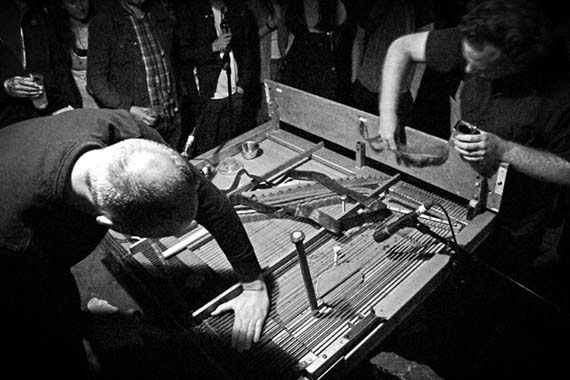 Langley & Murphy 'One time Vitamin B12 balloonist meets former New Jack Officer gas bag to tickle the eviscerated innards of Ol' Phil Ives' eighty eight. Somebody call the improv police.'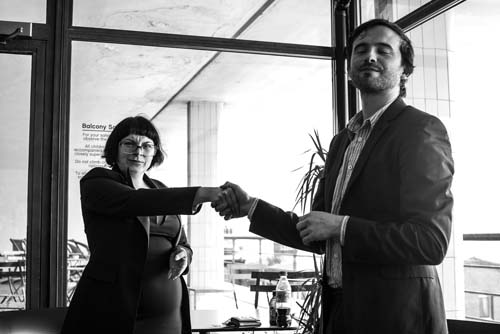 Oxfam, Western Rd, Saturday, 12 Midday
Plastic Containers of Nothing
Brighton based arts entrepreneurs Plastic Containers of Nothing are delighted to join forces with Colour Out Of Space to bring you an exclusive unveiling of their brand new startup - PCoN Personal Shopping Solutions.Join PCoN reps Emma and Duncan at Oxfam (136a Western Road, Brighton BN1 2LA), Saturday 19th, 12 Midday, for a fun, informal seminar introducing this exciting new brand and a chance to sign up ABSOLUTELY FREE! Make sure you don't miss this one time only opportunity! Early attendance advised.
---
SUNDAY 20TH NOVEMBER, SALLIS BENNEY THEATRE, 6 - 12 MIDNIGHT

Iancu Dumitrescu, Ana-Maria Avram and Hyperion Ensemble's members Yoni Silver, Alex Drool Yonovic, Cosmin Postolache.- 11:00pm - 12:00am
Olympic Shit Man - 10:00pm - 10:30pm
Steve Beresford, Tania Chen & Stewart Lee - 9:05pm - 9:45pm
Phantom Chips - 8:05pm - 8:35pm
Birgit Ulher -7:15pm - 7:45pm
Daniel Löwenbruck & Marcellvs L - 6:30pm -7:00pm

We're pleased to announce Iancu Dumitrescu & Ana-Maria Avram will be joined by Hyperion Ensemble members Yoni Silver, Alex Drool Yonovic and Cosmin Postolache.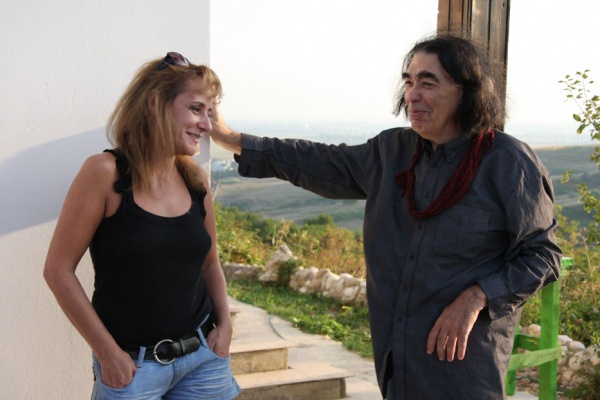 Iancu Dumitrescu
Born in Sibiu, Romania, in 1944, composer, interpreter and pioneer, Dumitrescu has long been a leading figure in contemporary and experimental music. He stands at the forefront of one of the 20th/21st century's most enthralling avant-gardes - the spectral composers of Romania. Operating on the margins of a regime once committed to socialist realism, his microscopic explorations of acoustics draw on both Western techniques and local traditions: the folk music research of Béla Bartók, Eastern Orthodox chant, and Byzantine mysticism - the resulting compositions, based on the experience of sound as enigmatic, amorphous and massive - break apart sonic conventions. In 1976 he founded the Hyperion Ensemble, an international 'living workshop, a constant source of ideas and sounds' to explore new aesthetics in the composition, interpretation and philosophy of music.
- Dumitrescu - Sound Morphology
- Dumitrescu - Spectral Music
Ana-Maria Avram
Born in Bucharest, composer, pianist and conductor Avram has written over 130 pieces for solo, chamber orchestra, electronic and computer assisted music. Avram is drawn to the dynamic nature of sound as independently shaped by each performer and listener - 'Even if something is written, what is this, there on the score?' she asks. 'A base from which to fly away.' Her music has achieved its fullest development in the synthesis of electroacoustic and instrumental sources. Alongside Dumitrescu, she is one of the flag-bearers of the spectral music trend and since 1988 has been a member of the Hyperion Ensemble.
- Ana-Maria Avram - Spectral Music
Steve Beresford & Tania Chen & Stewart Lee perform John Cage's 'Indeterminacy'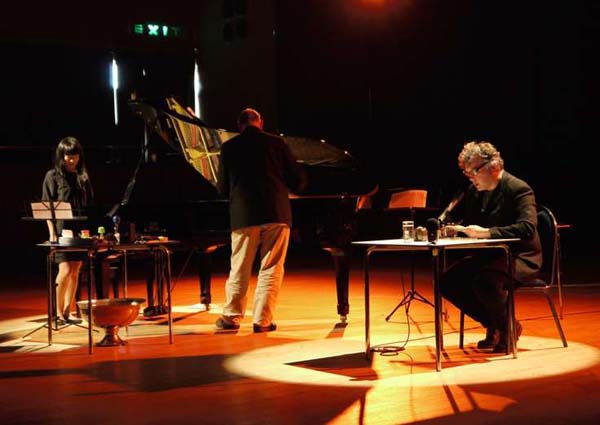 Tania Chen
Chen is a leading interpreter of John Cage, Cornelius Cardew and Morton Feldman, a performance and video artist, experimental musician and free improviser. She performs, composes and improvises using piano, keyboards, digital, lo-fi electronics and found objects. A powerful, translucent performer, her music has taken her across the globe from Berlin, London and Tokyo, to San Francisco, LA, New York and beyond. Chen's live and recording collaborations include John Cage's 'Music of Changes' for solo piano, John Cage's 'Indeterminacy' with Stewart Lee & Steve Beresford; Cornelius Cardew & Michael Parsons' 'Piano Music' and two forthcoming recordings with Gino Robair and Tom Djll in the group Tender Buttons and 'Ocean of Storms' with Henry Kaiser, William Winant and Wadada Leo Smith.
Steve Beresford
Beresford has been a central figure in the British improvising scene for over thirty years, working with the likes of Derek Bailey, Evan Parker, Han Bennink, Christian Marclay and Alterations. His work with Marclay revolves around a series of mixed media projects; he has also written songs, scored feature films, TV shows and commercials.
Further collaborations are numerous – he's worked with hundreds of people, including The Slits, Stewart Lee, Ivor Cutler, Prince Far-I, Alan Hacker, Ray Davies, Ilan Volkov, The Flying Lizards, Otomo Yoshihide, The Portsmouth Sinfonia and John Zorn. On improvisation Bereford said, 'Being involved in improvised music was the single most important factor in developing my understanding of music. Playing improvised music was a liberating force, a culture where you could ignore conventional rules, build up and formulate your own individual technique.'
This year, Ecstatic Peace Library will reprint all 23 issues of 'Musics' - the magazine he co-edited in the 1970s - into one volume.
- Steve Beresford - European Free Improvisation Pages

Stewart Lee
Born in Shropshire in 1968, Lee began writing and performing stand-up at the age of 20, having been inspired by seeing the post-punk anti-comic Ted Chippington open for The Fall in Birmingham in 1984. A renowned writer as well as comedian, Lee has hosted radio documentaries on Native American Clowns, Satanic music, free jazz, psychedelic pagan kids' TV, Radiophonics and Morris Dancing, and performs on the recently released Shirley Collins' tribute album. He is a patron of the arts radio station Resonance FM and has written widely on experimental music.
- Homepage
- Lee on John Cage's 'Indeterminacy'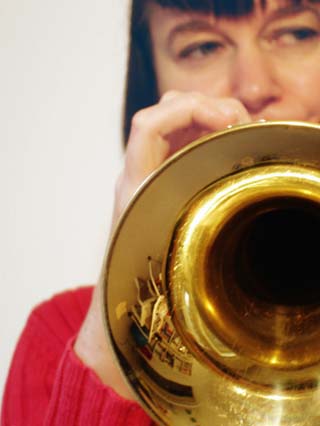 Birgit Ulher
Ulher originally studied visual arts, drawn to abstraction and Fluxus, practices which still exerts a strong influence on her music today. Since moving to Hamburg in 1982 she has been involved in the City's vibrant experimental music scene and developed a highly distinctive musical language of her own. Her work centres on extending the sonic possibilities of the trumpet to explore the shapes, textures and colours found beyond the instrument's open tone. Recent projects have increasingly explored the relationship between sound and silence.
Olympic Shit Man
'As all Mother Savage tapes begin their transubstantiation into the new holy relics of Noise, one seldom-heard act still stands at a comfortable distance from the rest of the roster. A collaboration between Andy Bolus (Evil Moisture) and Mark Durgan (Putrefier), Olympic Shit Man divorced itself from the ultra-saturated, no-mind quest for pure filth by combining velocity and density while compromising neither. Most cut-up noise of the time buzzed your ears like a Stuka, uncatchable but lacking heft, while the harshest acts demolished all, but maneuvered like a tank in winter. Bolus's EMS synth blurts and Durgan's tactile junk scrapes capture the full spectrum of frequencies, while the pair's tape splicing strategies create asymmetric constructions that rattle around the room like a washer with an unbalanced spin cycle. Olympic Shit Man is ferocious yet fleet, vibrant yet filthy, jaw-clenching yet hilarious.' Harbinger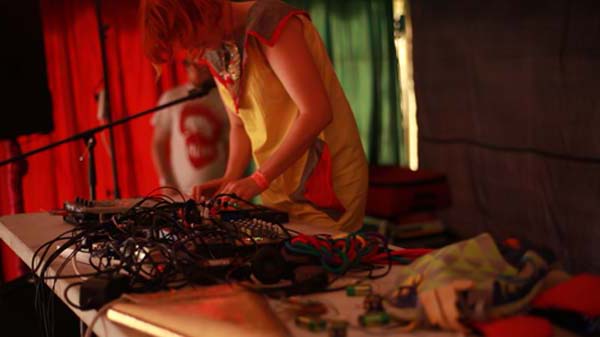 Phantom Chips
Australian-born Tara Pattenden aka Phantom Chips performs with an array of home made electronic instruments, samplers and wearable noisemakers – DIY, tactile synthesizers that can be stretched and squeezed to create sound. Live she concocts sound-scapes, rhythms and noise, often embracing chance sonic encounters with the audience, costumes and movement. She's performed worldwide with Kunt, Monster Zoku Onsomb and as Schmelfhelp.
Daniel Löwenbrück & Marcellvs L.
Daniel Löwenbrück
Löwenbrück is a German performance artist, composer of tape-music and visual-artist living in Berlin. He has been releasing music and performing internationally since the mid 90's as part of the Schimpfluch-Gruppe (with Rudolf Eb.er, Dave Phillips, Joke Lanz), as a duo with singer and performance artist Doreen Kutzke, as part of the Cabaret Performance-Group Ohne (with Tom Smith, Dave Phillips, Reto Mäder), and solo as Raionbashi and under his real name. Performances and festival appearances are numerous and include New York, Paris, Moscow, Minsk, London, Oslo, Stockholm, Helsinki, Tokyo and Vienna. Löwenbrück founded the label Tochnit Aleph in 1994 publishing records and editions of musique concrete, sound poetry, artist-records and noise music. Since 2008 he has curated the gallery and record shop Rumpsti Pumsti (Musik) in Berlin.
Marcellvs L.
Marcellvs L.'s radically narrative video and sound installations create a tangible, physical staging of time and slows it down by setting commonplace objects in a state of perpetual duration, which seems to detach them from reality. The physicality produced by the sound and rhythm of the films makes the videos into passages for the viewer; the films turn into spaces of transit for the confrontation of possibility. Marcellvs L. (b. 1980 Belo Horizonte, Brazil) lives and works between Berlin and Seyoisfjörour. He has participated in numerous biennials internationally, including the 16th Biennale of Sydney; 9th Lyon Biennale of Lyon; 27th São Paulo Biennial. Museum exhibitions include MAC – Musée d'art contemporain de Lyon; Helsinki Art Museum; Astrup Fearnley Museet, Oslo; ICA London; NBK – Neuer Berliner Kunstverein; Kunsthalle Wien; New Museum, New York; Museo Nacional Centro de Arte Reina Sofia, Madrid; ZKM Museum of Contemporary Art, Karlsruhe; and Museum of Modern Art, São Paulo.
Peak Signal 2 Noise
The finest and nastiest moments of Peak Signal 2 Noise's first two TV series for have been dissociated and then reconjoined into a visual mixtape for the foyer on Sunday eve. Spittle, weevils, sheds, carrots and rust from PS2N - the Sheffield-based collective of filmmakers, musicians and artists (including Singing Knives Records, Tinnitus Jukebox and Poot).
---
SUNDAY 20th NOVEMBER DAYTIME
One Church, Sunday, 2.30pm – 5.30pm
Myriam Van Imschoot & Doreen Kutzke + Aine O'Dwyer (2.30pm - 4pm)
+ Iancu Dumitrescu & Ana-Maria Avram in conversation with Andy Wilson (4pm)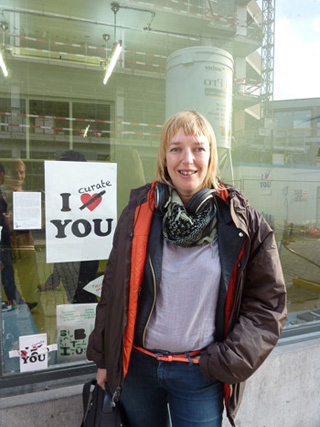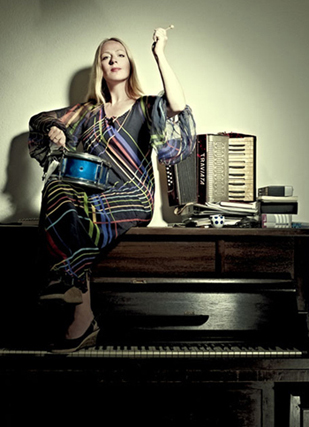 Myriam Van Imschoot
Van Imschoot makes performances, creates sound poetry and vocal pieces, exhibits video and sound installations. She holds a unique position in the Belgian art field, moving between institutional fields and media, with a keen interest to experiment with contexts when not creating her own. Recently, fascinated by the phenomena of long-distance communication, she has embarked on a cycle of work which explores yodelling, crying, waving and bird calls. Her pieces Hola Hu (2013) and Kucku (2014) performed with Doreen Kutzke are deconstructive yodel duets that reframe folklore as it's transmitted and altered.
Doren Kutzke
Kutzke is a German actress, performance artist, composer, singer, and vocal-teacher specialing in the art of yodeling. She grew up in the Harz Mountain region and started yodeling & singing at the age of six. Her activities includes workshops, performances and concerts with numerous projects; with Malcolm Arison (The BossHoss) as Kutzkelina & The Devils Harmonica, with Dagobert and Philipp Bellinger as Kutzkelina & Die Österreicher, with singer and multi-disciplinary artist Ute Waldhausen as Parabelles, with performance artist and composer Daniel Löwenbrück as Raionbashi & Kutzkelina, with Volker Könitz as Kutzkelina & Herr Könitz, with writer and performance artist Myriam van Imschoot, and solo as Kutzkelina. She founded the Jodelschule Kreuzberg in Berlin and teaches yodeling all over the world.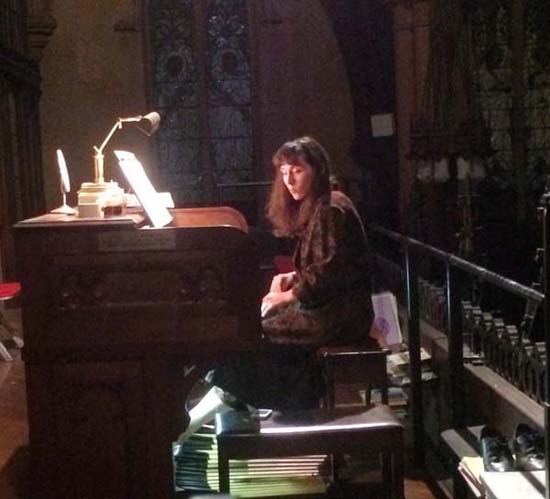 Áine O'Dwyer
O'Dwyer is an Irish composer, visual artist and performer based in London. Primarily a harpist, O'Dwyer has experimented with a variety of different instrumentation and approaches to sound, exploring acoustic phenomena, deep listening and the search for alternative scores through a combined performativity of instruments, drawings, space, time, memory and the body. Her solo releases include 'Music for Church Cleaners', an incredible series of improvisations held out of hours in St Mark's Church, Islington that qualify simultaneously as live recording, site-specific performance and field recording. Her ongoing projects and residencies include the Brunel Tunnel shaft and the Franciscan Friary in Limerick City. She has performed widely as a solo artist and in collaboration with Mark Fry and the A-Lords, United Bible Studies, Visitant (Trevor Knight, Gyohei Zaitsu, and Alice Maher), and Charlemagne Palestine. For COOS O'Dwyer aims to explore the sonic possibilties of the magnificant One Church pipe organ.
(4pm) Iancu Dumitrescu & Ana-Maria Avram in conversation with Andy Wilson!
'Join us for an interview with the incomparable Iancu Dumitrescu and Ana-Maria Avram, including but not limited to: the launch of the book 'The Metamorphosis of the Musical Text', with scores by Dumitrescu and Avram. Someone is bound to attempt a brief introduction to Spectralism, a meditation on why Throbbing Gristle were less reliable, a disquisition on Orphism in music, an explanation of why their music reminds me of a 'cosmic orgasm', and a lot of blether and other stuff provided by you, our friends, our enemies - the audience." Andy Wilson, editor 'Cosmic Orgasm: The Music of Iancu Dumitrescu', and author of 'Faust: Stretch Out Time 1970-1975'
Hope and Ruin, Sunday, 12 Midday (Free)
Derek Walmsley and Wire Present
Breaking The Airwaves:
The past, present and future of freeform radio with Derek Walmsley (The Wire), Brian Turner (WFMU), Fabio Roberti (WFMU), Bronac Ferran (independent broadcaster/curator), Luke Younger (NTS), Daniel De Wereldvermaarde Botanicus/Cassis Cornuta (Radio Centraal)
Join Derek Walmsley, Editor at the UK's leading new music magazine The Wire for a panel exploring artist independent broadcasting worldwide. There'll be tasty vegan food too to set you up for Day Three.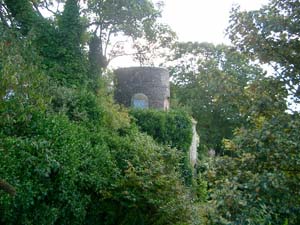 Tarner Tower, Sunday,10.30am - Midday (Free)
Duncan Harrison presents: Revisiting Tarner Tape Centre
Constructed in 1832 and now a landmark of the Tarner Community Project situated in Carlton Hill Conservation Area, Tarner Tower enjoys a little known but fondly kept status as a unique site of local, historical interest. One of the most scarcely acknowledged pieces of the tower's history, however, is it's short lived spell as the creative hub of Brighton born artist and composer Raymond Carr-Hampden (1913-1992).In 1964, Carr-Hampden established the Tarner Tape Centre as the primary site for his private studio and it was here he composed and produced the majority of his few surviving recorded works. The Centre also served as a space for small scale community workshops in which local residents could learn sound recording and appreciate experimental music under Carr-Hampden's tutelage. Though thriving and well loved by the small groups who frequented it, the Centre was forced to close after just two short years of operation as Carr-Hampden relocated to the USA.
Working in conjunction with the estate of Carr-Hampden, Duncan Harrison will present a sound installation in Tarner Tower using audio digitally transferred from original master tapes produced during the heyday of the Tarner Tape Centre
---
HOME / PROGRAMME 2016 / EXHIBITIONS / WORKSHOPS / FILMS / ARCHIVE / INFORMATION