HOME / TIMETABLE / WORKSHOPS + EXHIBITIONS / LIVE AT COOS / INFORMATION / ARCHIVE
---
Colour Out of Space
Archive 2006 - 16
---
COOS NO.7: 18th - 20th November 2016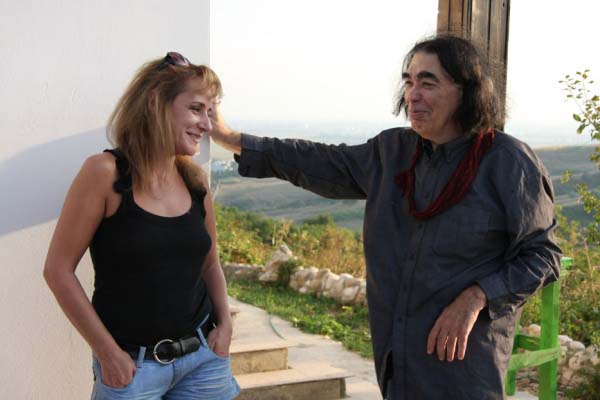 Welcome to the archive of Colour Out of Space 7. Over the weekend Brian Turner, music director of New Jersey's WFMU, and sound artist Ilia Rogatchevsk of Resonance FM were at venues throughout the city recording performances, panels and interviews. Take a listen:
Ilia Rogatchevsk's hour long intro to COOS 7 includes Myriam Van Imschoot & Doreen Kutzke, Matt Krefting, Claire Potter, Birgit Ulher, Stephen Cornford, Kent Tankred, Johannes Bergmark, Steve Beresford, Tania Chen & Stewart Lee.
Derek Walmsley, editor of Wire, hosted a panel at Brighton's Hope and Ruin on contemporary broadcasting and the legacy of freeform radio - 'the Golden era of radio today!'. Joining Derek were Brian Turner and Fabio Roberti of WFMU, independent curator and broadcaster Bronac Ferran who hosts the programme Making Conversations on Resonance FM, Luke Younger aka Helm who DJs monthly on online station NTS, and Daniel De Wereldvermaarde Botanicus (AKA Cassis Cornuta) of Antwerp's Radio Centraal.
Come On, Come Down! #11 – Resonance FM
London-based sound artist Ilia Rogatchevski presents a six-hour 'atmospheric re-imagining' of the weekend - loosely divided into two hour sections representing each day.
WFMU - The Brian Turner Show at COOS
Turner's WFMU COOS special features 'gorgeous soundshaping from New Englander Matt Krefting, Australian sound/visual artist Matthew P. Hopkins, a claustrophobic collaboration between Schimpfluch-Gruppe veteran and Tochnit-Aleph label founder Daniel Lowenbruck with Brazilian-born visual artist Marcellvs L, plus a final head scratching set from the Clappy Shandy Dads (featuring Dylan Nyoukis with members of Hyperion Ensemble, Vibracathedral Orchestra, and Chastity Potato)'.
Some insights from the weekend can be found here and here, and there's an intrepid audio diary recorded each night by Matt Dalby, revolving footage from the Radiophonic Laboratory of Antimatter and documentation of Stephen Cornford's magnificent, kinetic sculpture Constant Linear Velocity.
Thankyou to all the artists
Matt Krefting (USA), Cassis Cornuta (BE), Clappy Shandy Dads (UK), Guy Rombouts (BE), Angharad Davies & Lina Lapelyte (UK), Mathhew P Hopkins (AUS), W.Mark Sutherland (CAN), Esther Strauss (AUT), Esther Strauss (AUT)
Anne Pajunen (SWE), Wol (SWE), KOEFF (SWE), Kent Tankred (SWE), Marja-leena Sillanpaa (SWE), Johannes Bergmark (SWE), Daniel Rozenhall & Sten Backman (SWE), Mikael Prey (SWE), Leif Elggren (SWE), Michael Barthel (DE), Claire Potter (UK), Langley & Murphy (UK).
Iancu Dumitrescu, Ana-Maria Avram and Hyperion Ensemble's members Yoni Silver, Alex Drool Yonovic, Cosmin Postolache. (ROU/ISR) & Alice Eldridge, Steve Beresford & Tania Chen & Stewart Lee (UK), Olympic Shit Man (FR/UK), Birgit Ulher (DE), Phantom Chips (AUS), Daniel Löwenbrück & Marcellvs L. (DE/BR), Daniel WJ Mackenzie (UK), Myriam Van Imschoot & Doreen Kutzke (BE/DE), Aine O'Dwyer (IE), Plastic Containers of Nothing (UK).
---
COOS N0.6: 8th - 10th November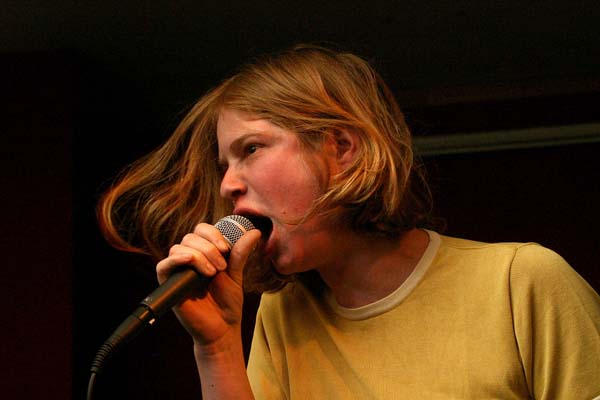 ---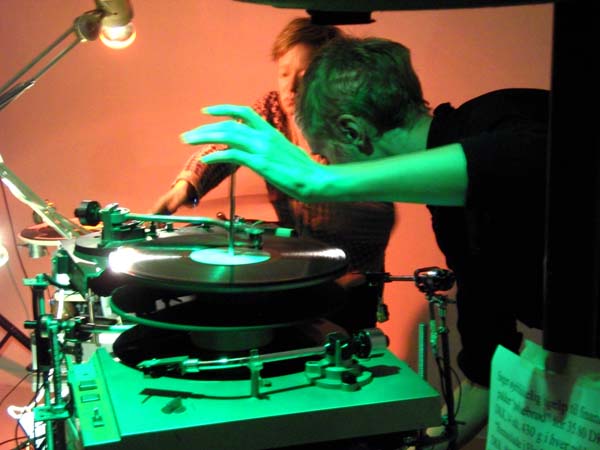 Performance
Aki Onda (JP/US)
I'D M Theft able & Crank Sturgeon (USA)
Darksmith (USA)
Ludo Mich (BE)
Wreck & Drool & Smack Music 7 (IL/UK)
Licker (USA)
Infinite Gaaah (UK)
Clive Graham & Anthony Donovan (UK)
Tobias Kirstein & John Lunds (DK)
Bohman Brothers (UK)
Bren't Lewiis Ensemble (featuring Gnarlos & Lucian Tielens) (USA)
Anla Courtis & John Godbert (AR/UK)
Harappian Night Recordings with Pascal Nichols (UK)
Martin Klapper & Martin Jezek (CZ)
Jozef Van Wissem (NL)
Peter Fengler (NL)
Micro_Penis (Fr)
PC Fencott (UK)
Raionbashi & Dylan Nyoukis (DE/UK)
Brittle Hammer Trio (UK/USA)
Vinyl Terror & Horror (DK)
Valeri Scherstjanoi (RU)
Vom Grill (BE)
Maja Jantar (BE)
Laundry Room Squelchers feat Leslie Keffer and Sharkieface (USA)
Ninni Morgia & Silvia Kastel (IT)
Glyphs (UK)
Dog Lady (USA)
Johannes Bergmark & Tippi Tillvind (SE)
Films / Live Soundtracks
Psycho Subtropo - Live film performance from Sally Golding
Blue Yodel - Live Sountrack from Fiona Kennedy
Artwar 3 - Jeff Keen / Live soundtrack from Deep Kiss 720
Light Support Systems - Ian Helliwell / Expanded film performance
Lapis (John Whitney USA 1966). With live soundtrack from Iron Giant
Dirk de Bruyn - Multi projection performance plus live soundtrack collaboration with Ian Helliwell
Cat Hawed - Live Soundtrack from Hannah Ellul, John Marshall, Ben Morris & Ben Knight
Bad Orb - Live audio-visual performance from Sarah Albury
Famila Borealis - Super 8mm performance and live soundtrack from Martin Klapper
Trypps#6 (Malobi) (Ben Russell USA 2009 12 mins) + Turd Class: Hugh Metcalfe Live at VNM (Mark Willetts UK 2011 12 mins) + The Story of Thomas Edison (Aaron Zeghers Can 5 mins) + Bodily Heavens (Stephanie Wuertz USA 4.55 min) + ./still (Machi Miyahara JP 2011 4.11 min) + Koh (AR Levine USA / Thailand 2010 1.5 min) + Spectacle (Gravity Bliss UK 2011 1 min) + Instant Arc Archaeo + An Accidental Exhumation (Edmund Cook 2011 6 min) + Dungeons and Dregs (Invernomuto Italy 2010 5 min) + Autocue (Patrick Goddard UK 2011 3 min)
Domestic Rhythms (Jeremy Newman USA 2009 6 min) + Sun Moon Stars Rain (Leslie Sunet Can 2009 3.20 min)
B.O.B Chapter 1/2/3 (Invernomuto Italy 2010 2.32 min) + Walking From Sala to Tims (Clint Enns Can 2010 5 min) + I'll Raise You Like A Mother (Violaine Bergoin UK 8min) + New Ratio (Simon Payne UK 1.45 min) + 724 14th St (Ching Yi Tseng TW 10 min) + I See a Light (Aaron Zeghers Can 6.15 min) + Breath Dance (Stuart Pound UK 2010 4.10 min) + Above the Skyline (Tessa Garland UK 2011 5.50 min)
Talks / Exhibition
Collective improvisation - Utopian stratergy or group goof? Hosted by Daniel Spicer
An Audience with Seymour - The Buttecounty Freemusic Society
Smell Sound of Forensics Y´s at the Grey Area Gallery - Installation by Crank Sturgeon, id M Theftable and Fritz Welch
---
COOS No.4: 30th October - 1st November 2009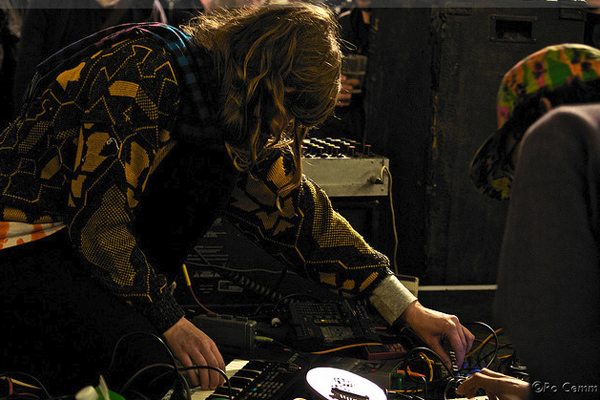 Performance
Trevor Wishart (UK)
Morphogenesis (UK)
Damion Romero (USA)
Kodama (JP/USA)
Duncan Harrison & Ian Murphy (UK)
Nuslux (FI)
Buffle (BE)
Sigtryggur Berg Sigmarsson (IS)
Sunshine Variety (UK)
HereHareHere (UK)
Films from Fabio Roberti (USA)
Bill Orcutt & Paul Hession (USA/UK)
Kommissar Hjuler & Mama Baer (DE)
Edwards/Noble/Wilkinson trio (UK)
Justice Yeldham (AU)
Simon Whetham (UK)
Chora (UK)
UFO Antler Band (UK)
City Hands (NL)
Part Wild Horses Mane On Both Sides (UK)
Eli Keszler (USA)
Cotopaxi (DE)
Ju Suk Reet Meate & Oblivia (USA)
Sten Hanson (SE)
Joseph Hammer (USA)
Leif Elggren (SE)
Logos Women ft Moniek Darge and Françoise Vanhecke (BE)
Mechanical Children (UK)
Karen Constance & John Weise
Phil Minton & Isabelle Duthoit (UK/FR)
Tomutonttu (FI)
Audrey Chen (USA)
The Hunter Gracchus (UK)
Films
Guy Sherwin (UK) + Lynn Loo (SG) Live film performance: Sound Cuts + Railings + End Rolls + Cycles #3
Short Film Programme: Violin Power (Steina Vasulka USA 1978) + May Tomorrow Shine the Brightest of All Your Many Days As It Will Be Your Last (Ben Rivers + Paul Harnden UK 2009) + Caboong! (Jonna Karanka and Johanna Lonka Finland 2007) + Porter Springs 4 (Henry Hills USA 1999) + The Ancient Set (Steve Claydon UK 2008) + Lentokalojen Hautuumaa (Jonna Karanka Finland 2007) + Lines And Pulses (Ian Helliwell UK 2008) + Hameenkatu (Sami Sänpäkkilä Finland 2003) + Trevor (Steina Vasulka USA 2000) + Plazmatic Blatz (Jeff Keen 1991 UK)
Workshops / Talks
LA Free Music Society: Workshop with Joseph Hammer + Ju Suk Reet Meate + Oblivia
The Dog Walking Technique: Malcy Duff
Failure and the Technology of the 21st Century - Talk and panel hosted by Fabio Roberti (Radio WFMU)
Exhibition at University Gallery curated by Karen Constance
Audio Diary by Daniel Spicer
---
COOS N0.3: 5th - 7th September 2008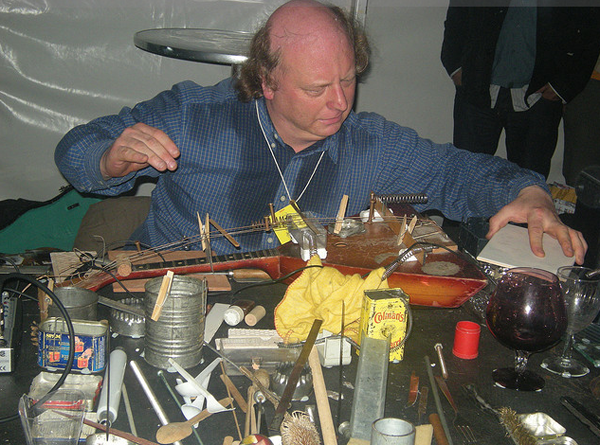 Performance
Aaron Dilloway (USA)
Skaters (USA)
Peeesseye (USA)
Adam Bohman & Ali Robertson & Dylan Nyoukis (UK)
Leslie Keffer (USA)
Gastric Female Reflex (USA)
Helhesten (UK)
Core of the Coalman (USA)
Helm (UK)
Rat Bastard (USA)
HRT (UK)
Reines D'Angleterre (Ghedalia Tazartes & Jo Tanz & él-g) (FR)
Limpe Fuchs (DE)
In Camera (DE)
Vibracathedral Orchestra (UK)
Skullflower (UK)
Paul Hession & Biggie Vinkeloe & Sami Pekkola (UK/SE/FI)
Charlie Draheim (USA)
Mark Durgan (UK)
Datashock (DE)
Thurston Moore & Chris Corsano & Bill Nace (USA/UK)
Koichi Makigami (JP)
Lionel Marchetti & Yoko Higashi (FR/JP)
Neil Campbell / Karl Bauer (UK/USA)
Dave Phillips & G*Park (CH)
Pigs In The Ground (USA)
Black to Comm (USA)
Muscletusk (UK)
Weirding Vessel (UK)
Vole (UK)
Films
XXX (for COOS) Bruce McClure Projection Performance
Short Film Programme: Joy Through Film (Jeff Keen UK 1962 / 2008) + Dove Coup (Ben Rivers UK 2007) + Pêche de Nuit (Henri Chopin/Luc Peire FR 1963) + Baume im Herbst (Kurt Kren AT 1960) + Valentin de las Sierras (Bruce Baille USA 1967) + Place on the Hill (Rob Gawthrop UK 1979) + Axiomatic Granularity (Paul Sharits USA 1973) + Sync Sound (Taka Iimura Japan 1978)
Workshop and Talks
Sharon Gal's Toy Orchestra
Sound Poetry in Post-Tongue Culture by Byron Coley + Panel
---
COOS No 2: 7th - 9th September 2007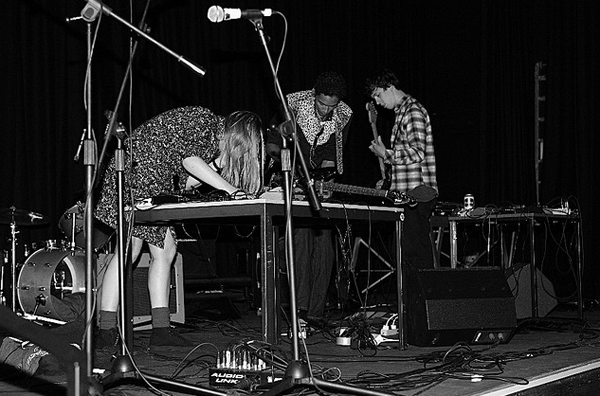 Performance
Henri Chopin (FR)
Conrad Scnitzler's 'cassette con-cert' by Wolfgang Seidel (DE)
Lussu & Pami (FN)
Jazkamer (NO)
Raionbashi & Kutzkelina (DE)
John Wiese (USA)
Bolide Awkwardstra (UK)
Oceanic Wildlife S.F. (BE)
Gryn Brvs (UK)

Dead Machines (USA)
Ceylon Mange (UK/USA)
Jazzfinger (UK)
Lamborghini Crystal (USA)
Maths Balance Volumes (USA)
Family Underground (DN)
Nackt Insecten (UK)
Tight Meat Duo (UK)
Jettatura (USA/AU)

Hair Stylistics / Nakahara Masaya (JP)
Pod Blotz (USA)
Jaap Blonk (NL)
Dora Doll & Steven Lavender (UK)
Phil Minton's Feral Choir (UK)
Orphan Fairytale (BE)
Usurper (UK)
Vitamin B12 (UK)
Slow Listener (UK)

Films
My Name is Albert Ayler (Kasper Collin 2005 SE)
Looking for Reynols (Nestor Frenkel 2004 AR)
Sumatran Folk Cinema (Mark Gergis & Alan Bishop 2006 USA)

Short Film Programme: Frames (Annabel Nicolson 1972 UK) Live soundtrack by Towering Breaker + Fires of Water (Stan Brakhage 1965 USA) + Aerial (Margaret Tait 1974 UK) + Astika (Ben Rivers 2007 UK) + Kino Da! (Henry Hills 1981 USA) + 69 (Robert Breer 1968 USA) + Compound Eye (Ian Helliwell 2004 UK) + My Name Is Oona (Gunvor Nelson 1969 SW) + Matchbox (Wojcieh Bruszewski 1975 PL) + Cycles 1 (aka Dot Cycle) (Guy Sherwin 1972-77 UK) + Joe Dimaggio 1, 2, 3 (Anne Mcguire 1991 USA) Glimpse of the Garden (Marie Menken 1957 USA)

Workshop and Talks
Improvisation as the Primal Musical Mode by David Keenan
Phil Minton's Feral Choir Panel
---
COOS No.1:10th - 12th November 2006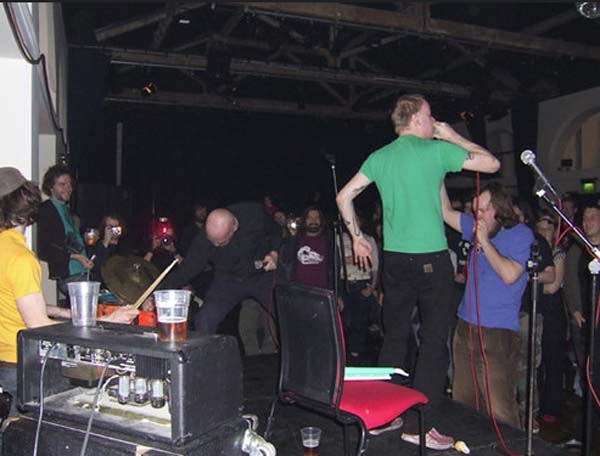 Performance
Pengo (USA)
Julian Bradley & Neil Campbell (UK)
Sharon Gal (UK)
Polly Shang Kuan Band (UK)
Glamorous Pat (USA)
Towering Breaker (UK)
Made Out Of Wool (UK)
Replicock (USA)

Ju Suk Reet Meat & Tom Recchion (USA)
Chris Corsano & Dylan Nyoukis (USA/UK)
Hacky Pack Sac Sac with Ludo Mich (BE)
Phil Minton (UK)
Hockyfrilla (UK)
The Bohman Brothers (UK)
Tomutonttu (FI)
Frozen Corpse (DK)
Green Mist & Family Battle Snake (USA)

MV& EE with The Bummer Road (USA)
The Puke Eaters (FI)
Heather Leigh (UK)
Sunroof (UK)
Birds of Delay & Isambard Kingston Brunel (UK)
Robedoor (USA)
Amon Dude (BE)
Gas Shepherds (UK)
Daguerreotype (UK)
Films
Enthusiasm (Dziga Vertov USSR 1930)
Heaven and Earth Magic AKA The Magic Feature. (Harry Smith USA 1943)
Lysistrata (1975 BE) + Saturnus (BE 1971) presented by Ludo Mich
Films from the LA Free Music Society presented by Tom Recchion

Short Film Programme: Adebar (Peter Kubelka AT 1957) + Scotch Hop (Christopher Maclaine USA 1959) + Marvo Movie (Jeff Keen UK 1967) + Iro (Colours) (Takahiko Iimura Japan 1962-3) + Word Movie (Paul Sharits USA 1966) + The Song of Rio Jim (Maurice Lemaitre FR 1978) + 30 Sound Situations (Ryszard Wasco PL 1975) + Crack Glass Eulogy (Stan Brakhage USA 1992) + Ai (Love) + 24 Frames Per Second (Takahiko Iimura JP 1962)
Workshop and Exhibition
Noise Film Aesthetics by Rob Gawthrop
Destination Blatz – A Jeff Keen Retrospective
---
Stills from top: Iancu Dumitrescu & Ana-Maria Avram
,
Maya Dunietz,Vinyl Terror & Horror / Cotopaxi / Adam Bohman / Family Underground / Hacky Pack Sac Sac with Ludo Mich
---
HOME / TIMETABLE / WORKSHOPS + EXHIBITIONS / LIVE AT COOS / INFORMATION / ARCHIVE