COOS - LIVE IN YOUR HEAD # 1
Adam Bohmnan & Pat Thomas & Sami Pekkola & Yoni Silver
Sallis Benney Theatre 27/4/19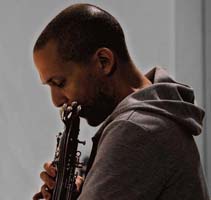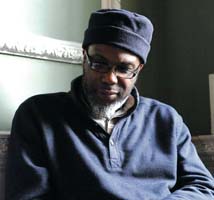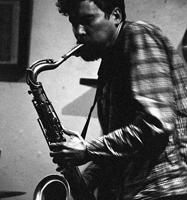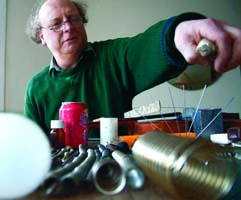 A series of streams for the lockdown. First up – a veritable COOS supergroup featuring a one off collaboration between four longstanding doyens of wayward improv; Pat Thomas on electronics and theremin, Adam Bohman with amplified objects, Yoni Silver on bass clarinet and Sami Pekkola on sax.


Adam Bohman: https://adambohman.bandcamp.com/
Pat Thomas: https://www.subradar.no/artist/pat-thomas
Sami Pekkola / Taco Bells: https://darkjazzz.tumblr.com/
Yoni Silver: https://yonisilver.wordpress.com
---
COOS - LIVE IN YOUR HEAD # 2 - THE ELKS
From COOS (8) at the Sallis Benney Theatre 27/4/19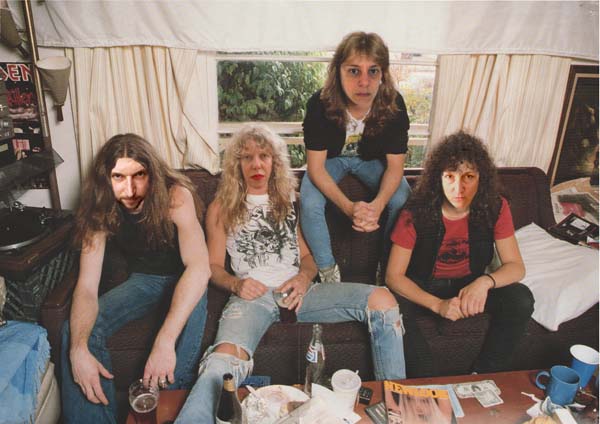 The Elks are an all too rare gathering of
Liz Allbee (Berlin/USA) – trumpet, preparations & electronics
Kai Fagaschinski (Berlin/D) - clarinet
Billy Roisz (Wien/AT) – video, elektronics & e-bass
Marta Zapparoli (Berlin/IT) – tape recorders & self made device
Having long played the oxide clean off their 'Bat English' cassette (available from the bandcamp link below) we were thrilled to have The Elks themselves take to the COOS stage for a superb, sonorous excursion through nocturnal woodlands and beyond... 'From established proponents of the experimental music scenes of Berlin and Vienna, one may expect a rather reduced and elegant soundscape. But these moose have completely different ideas, they don't mind getting their antlers dirty. There is no fear of the loud, the dramatic, the uninhibited roar. Although they can still walk on the hooves gently or whistle an adorable tune to mock some unsuspecting people'. Soundohm


http://lizallbee.net/
http://kylie.klingt.org/
http://billyroisz.klingt.org/
https://martazapparoli.klingt.org/
https://theeelks.bandcamp.com/releases
https://mikroton.bandcamp.com/album/this-is-not-the-ant
---
COOS - LIVE IN YOUR HEAD # 3
THE DAN, RAKEL & KLARA FRÖBERG EXPERIENCE
From COOS (8) at the Sallis Benney Theatre 28/4/19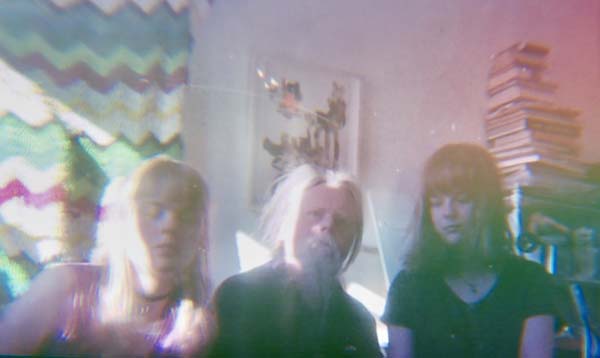 It's always great to have Swedish artist and sonic wizard Dan Fröberg along at COOS, and to make things extra special for COOS (8), he was accompanied by long term collaborators – twin daughters Rakel and Klara. Both were enlisted into 'The Fröberg Experience' (later 'The Kitchen Ensemble') from around the age of 6, honing a collective playful confusion for the eyes and ears at performances in Stockholm's museums and galleries throughout the 2000's.
In 2017, they released their critically acclaimed LP 'Moon, Eye, Shine And Turn Around', a swirling psychedelic tapestry of electric guitars, found sounds, field recordings, and the spooky barkings of their dog Mitzi.
For their COOS performance Dan said 'Every now and then, we still make rare live appearances, and now are ready to perform a sort of sonic séance at the COoS, consisting of home-made electronics, electric guitars, transparent lights, texts and secrets, in order to continues to communicate with all things visible and invisible'.
Fröberg's own solo output offers essential, relentlessly creative, intersections of shapes, environments, times and places, often spiraling between wildly different approaches in any given release. His new LP - 'Will You Drown Before It Is Water Again' - the first ever solo swarmandala album is out late summer – pre order NOW!


https://outerdisk.myshopify.com/
---
COOS - LIVE IN YOUR HEAD # 4
AF URSIN
From COOS (8) at the Sallis Benney Theatre 27/4/19
Photo - thanks to Mark Rietveld
At the midpoint of COOS (8), Af Ursin, performing behind two sheets of suspended metal and with no mixer or sound effects, delivered one of the festival's most hypnotic, all enveloping sets. The close textured sounds created were generated, on the right sheet, using a rubber ball for bass frequencies, and on the left, through the gentle gliding of a metal resonator from an old mechanical clock. For full temporal dislocation you'd need to be within that auditorium, but don headphones and dim the lights - this recording still has the power to elevate you out of any lockdown.
Af Ursin is the alias of Finnish composer/improviser Timo van Luijk. He was co-founder of influential audio-visual collective the Noise-Maker's Fifes and has been central to some of the leading avant-grade formations in Belgium and beyond; with Christoph Heemann in In Camera, with Andrew Chalk in Elodie, with Raymond Dijkstra in Asra, amongst others. During the '90s he began to record and perform his solo work under the name Af Ursin.
Van Luijk's work is rooted in the use of acoustic instruments (wind, percussion, strings), but his special sensitivity to the timbral qualities of each instrument, and his deft blurring of them, results in a sound-world that is mysterious, amorphous and hallucinatory, full of suggestive shadows, creaks and whispers. Informed by years of intensive listening to various types of free music, exploratory drug use and especially the "irregular organic forms" of the Belgian countryside where he resides, van Luijk's process begins always with pure improvisation: music played in an intuitive, sensual way, without the employment of conscious technique. He performs and overdubs each instrumental component himself, and out of this process micro-structures and loose arrangements emerge: the piece becomes an improvised composition. Over time he has evolved his own richly poetic musical language, full of allusions to drone, acid folk, classical, Musique concrète and jazz, but beholden to none. - Blackest Ever Black
---
COOS - LIVE IN YOUR HEAD # 5
ERNIE K FEGG
From COOS (8) at the Sallis Benney Theatre 27/4/19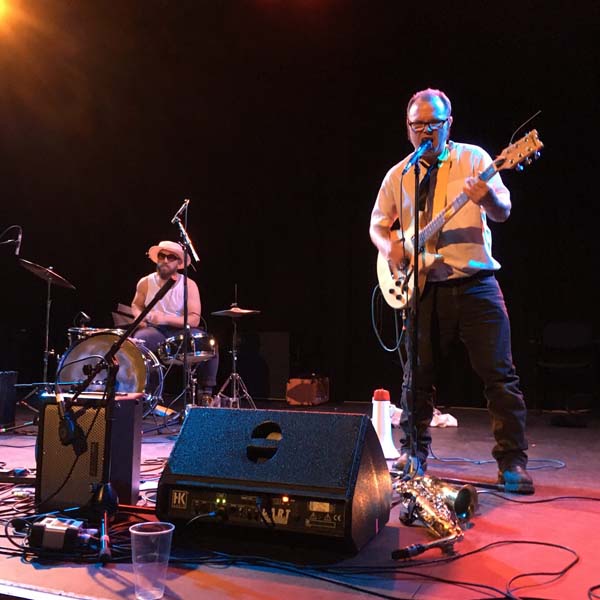 Photo - thanks Vicky Langan
All the way from Burselm, 30 minutes of Rock and Roll oblivion with Ernie and Al. This raw, gritty recording comes from Ernie's own camcorder lodged behind the sound desk, and features a stream of consciousness exposé / intro from the great Herb Diamante. Crank it up
'To that man of mystery. Recently he was seen banging a four stringed out of tune guitar under the name of Ernie K. Fegg. He had a drummer with him and they never released anything. Last year, in the 40C heat of the Ionian summer he surfaced as Dai Coelacanth…The man is on the form of his life, creating a world that no one else I know of can even come near to imagining never mind creating. A world chock full of dirty sounds, chipped mugs, the filth of forty thousand years as culled from the cassette racks of Woolies circa 1976. Hallmark Greatest Hits packages that only play one side with the other bleeding through. The monologue of a man on a mission armed only with a Dictaphone and his fevered brain. True Outsider Art.' Idwal Fisher Read More
---
LIVE IN YOUR HEAD # 6
STUART CHALMERS & TOM WHITE
From COOS (8) at the Sallis Benney Theatre 28/4/19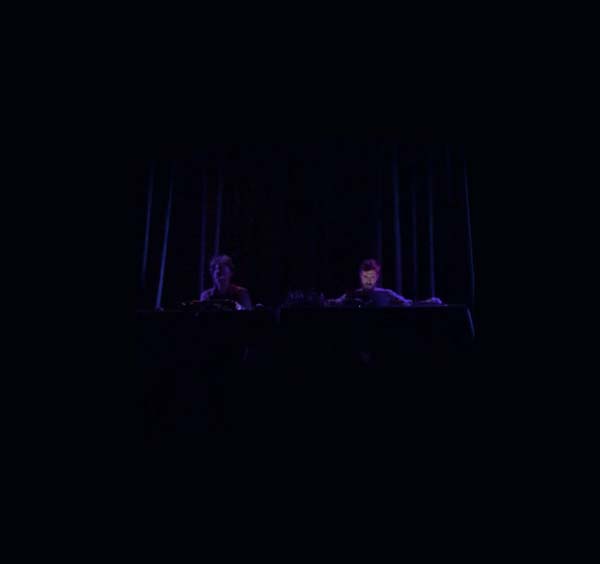 Stuart Chalmers & Tom White
After first collaborating on 2018's heady sound collage Awkward Objects, Tom White and Stuart Chalmers plunged the Sallis Benney into virtual darkness for the duo's first live outing - an improvised set of tape loops, ferric textures and cut up narratives.
Tom White is a London-based artist. His multidisciplinary practice spreads across sound, moving image, installation and live performance. Past projects include commissions and appearances for Radiophrenia, Glasgow (CCA); Whitechapel Gallery; BRAUBLFF (KRAAK & De Player). He won the British Composer Award in 2014 (Sonic Art) for Public Address, commissioned by South London Gallery. In 2016 he founded Apologies in Advance; a platform for artists presenting work in progress performances.
https://tomwhitesound.com/
Stuart Chalmers is a Yorkshire based cassette tape scavenger, Swarmandal improviser and recorder of caves. His interests are in merging the personal/universal aspects of sound, exploring unusual states of mind, discovering hidden meanings in the environment and harnessing chaos. He has collaborated in the past with Neil Campbell, Edward Sol, Graham Dunning, Yol, Sindre Bjerga and Claus Poulsen.
stuartchalmers.bandcamp.com/
---
LIVE IN YOUR HEAD # 7
The Burbling Mind
From COOS (8) at the Sallis Benney Theatre 28/4/19
Originally formed as a long distanced, sonic channeling into the the mind of Belgium artist Ludo Mich (setting the mood for a Brighton screening of Willie Stewart's Ludo doc), The Burbling Mind's Karen Constance & Dylan Nyoukis (Blood Stereo), James Parsons and Al Strachan reconvened on the closing night of COOS (8) for more group think via electronics, tapes, percussion, voice and cornet. Matt Dalby's late night audio report puts it best: 'Another highlight of the evening…sounds from within the forest or under your bed...we've cut off our ankle tags and buried them in the sea...' Plus Herb Diamante dishes the dirt.
Thanks to Tim Wilton for all recordings.
---
HOME / TIMETABLE / EXHIBITIONS + WORKSHOPS / LIVE AT COOS / INFORMATION / ARCHIVE